Nana Kwame Ampadu was one of Highlife's greatest legends but he "forgot" to bring me the ladies! This is the story.
In 1984, Africa Centre in London invited Nana Ampadu to perform.
The visiting party was meant to include his band, African Brothers and a Concert Party (actors and actresses). I was the organiser, so I called Nana in Accra to finalize the arrangements.
Me: Nana morning. Please, how many people are coming?
Nana: 25. My band is I5. The rest are my concert party people
Me: Ok. How many women are in the play?
<Somebody distracts Nana>
Nana: Yes.. err. Please speak to my manager.
Me: Just how many, Nana
Nana: Speak to him. He has all the details.
Me: Ok Nana
The manager takes the phone
Me: How many women are in the play, please
Manager: 5
Me: Thank You. I shall book separate hotel rooms for them
Manager: No need
Me: No need?
Manager: Yes ! They will be fine
Me: Ok
Manager: We are coming to shake London o!
Me: We can't wait!
The call ends with a laugh
On the day of arrival, I rushed to London Heathrow Airport to pick them up. The entourage was made up of 25 people alright but I saw no women.  And I looked very hard.
On the night of the show, I asked the inevitable question.
Me: Nana, please where are the ladies?
Manager: Oh they are dressing up. Come let's go and see them
The manager leads me to the dressing room. Nana follows.
Manager: The beautiful ladies!
They looked dashing but an hour before, they definitely were stiff-boned men from Adabraka.😆😆
Transformed by makeup and brassieres and in drag!
I turned to Nana but the manager quickly jumped in again.
Manager: They are very good, Boss!
Me: You mean, no women came?!
Nana: Don't worry. They will enjoy the show.
One of the "ladies" approached me, making out with a fake sexy voice, "Hello, how are you doing?"
We all laughed. 😁😁I had to laugh!
That night, the "ladies" put on a splendid show, making extra feminine-like moves to convince any doubting Thomases like me!
RIP Nana.
Notes
Who was Nana  Ampadu?
From the mid-1960s to the 80s, he was probably the most well-known ambassador of Highlife Guitar Band music. Musically, he experimented a lot to expand the boundaries of the genre –  especially with his forays into Reggae and Funk but he remained faithful to the "Yaa Amponsah" guitar style originated by  Kwame Asare and Kwaw Mensah.  Perhaps most importantly, Nana emerged as the most astute Highlife musician in the post-independence era to make profound political statements through his music.
Fame
Nana Ampadu shot to fame in a dramatic way in 1967 when he released 'Ebi Te Yie' – (some people are (sitting) living well), a sharp critique of social injustice in Ghana that became an anthem against poverty and social discrimination in Ghana. It resonated as a kind of musical equivalent of George Orwell's Animal Farm. Quickly perceived as an attack on the National Liberation Council (NLC), Ghana's first military regime the song disappeared from the airwaves.
Nana Ampadu was prolific as a songwriter.  Apart from his unique talents, in composing and arranging, what distinguished him in the line of Highlife Guitar band greats was his eloquent dexterity in translating oral traditions to storytelling. On stage, Ampadu recited proverbs and made philosophical quips that astonished and excited his audiences. He was seen as a man of the people and spoke about their experiences. One of his well-known proteges was Eddie Donkor, who went on to form one of the most exciting Highlife bands, with his trademark woollen hat and horse whisk.
A truly born storyteller
Nana Ampadu must have inherited that from his father, a sub-chief whose duties, including local abjugation, required acquaintance with customary law, lineage history and oral traditions.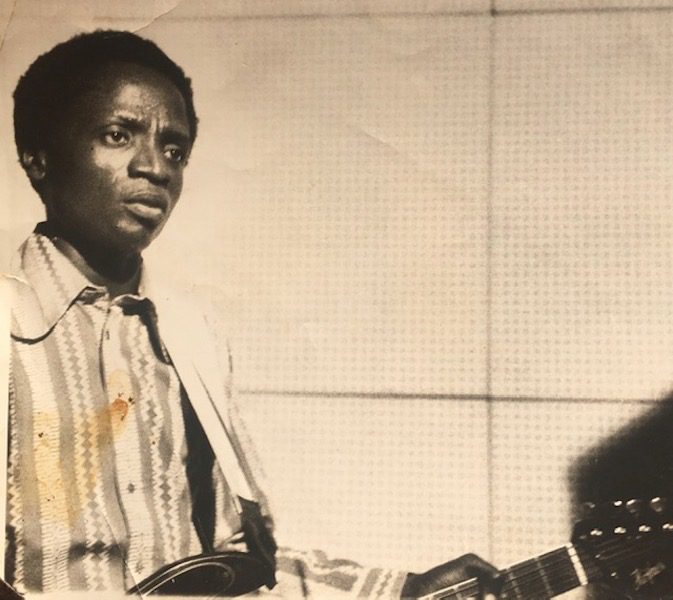 In 1973, Amapdu won a nationwide competition to be crowned the 'Odwontofoohene', to wit (Singer-in-Chief). Some of his popular tracks include Ebi Ti Yie, Aku Sika, Kofi Nkrabea, Obiaa Ba Nnye, Woyoo Woyoo, Mother, Mentumi Ngyae Wo, Agartha, Aye Se Ye Do Wo, Drivers, Anibere Nnye, Oman Bo Adwo, Kwaata and many others were popular at different times.
Nana Ampadu's Obra, was also very popular as it was the theme song for one of the Akan Drama programmes on national television. He became General Secretary of the Musicians Union of Ghana (MUSIGA)
The ladies show the stuff they are made of!
Below is an old video that turns out to be a real gem. It opens with the men dressing up as women. Nana Ampadu speaks to the social importance of the Concert Party tradition and performs live. The video also features Ko Nimo, another legend of Highlife Guitar Band music.
My popular love song -Agatha 😍